NEA.BPD FAMILY CONNECTIONS
is a 12-week course that meets weekly to provide education and skills training for people who are in a relationship with someone who has BPD. It is led by trained group leaders who are usually family members.

NEA.BPD AUSTRALIA
belongs to the International NEA.BPD family. NEA.BPDAust offers a 12-week Family Connections course led by trained group leaders.

NEA.BPD FAMILY TELECONNECTIONS
is an online option specifically for families living far from Family Connections meeting locations. They "meet" for the weekly course via teleconference.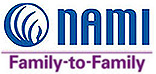 NAMI FAMILY-TO-FAMILY
is a free, 12-session educational program for family, significant others and friends of people living with mental illness. NAMI Family-to-Family is taught by trained family members.

BPD SUPPORT AND RECOVERY
is a local Houston volunteer organization that advocates for people with Borderline Personality Disorder and their
families
. On the first Monday of each month we offer a DBT skills-based study group for anyone.