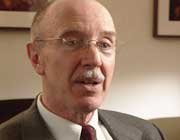 Frank Yeomans, PhD
Frank Yeomans, PhD is Clinical Associate Professor of Psychiatry at the Weill Medical College of Cornell University in New York and Director of Training at the Personality Disorders Institute of Weill-Cornell. Dr. Yeomans' primary interests are the development, investigation, teaching, and practice of psychotherapy for personality disorders. He has authored and co-authored books on Transference-Focused Psychotherapy for Borderline Personality Disorder.
A Family Guide to BPD
Our video series has helped thousands of people throughout the world understand and cope with BPD.