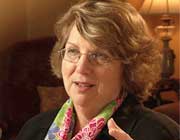 Marsha Linehan
Marsha Linehan, PhD is a Professor of Psychology and Professor of Psychiatry and Behavioral Sciences at the University of Washington. She is the developer of Dialectical Behavior Therapy (DBT), a highly successful treatment for suicidal behaviors and borderline personality disorder.
TRAILER – MARSHA.LINEHAN The Personal Story of DBT
During a presentation at the Institute of Living in Hartford, Connecticutt Dr. Linehan revealed that she had been institutionalized as a teenager for self-harming and suicidal behaviors, likely as a result of BPD. After her release, she went on to develop DBT to help others recover from similar difficulties. In the New York Times, Dr. Linehan stated, "So many people have begged me to come forward, and I just thought — well, I have to do this. I owe it to them. I cannot die a coward".