5. Coping with Borderline Personality Disorder (Instant Rental)
$5.99
This video was created for individuals and their loved ones. It explains what causes BPD in a way that is clear and easy to understand.
When you rent this video it's available for 2 days and can be streamed on any computer or compatible device. Or you can rent the 5 part COMPLETE VIDEO SERIES at a savings of $3.
Also available in DVD format.
Description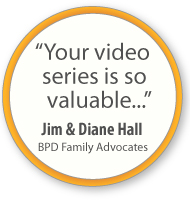 Watch This Trailer


Coping with Borderline Personality Disorder: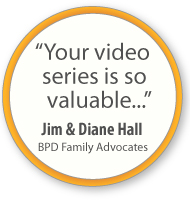 BPD affects not only the people who have the diagnosis, but everyone else in the family as well- particularly parents, siblings, children, spouses and partners. However, with proper treatment and good support their loved ones, many people can and do recover from BPD.
This program, the last in a series of five on Borderline Personality Disorder, shows how family members play a vital role in the outcome of the person who has BPD. Family members describe how education and support programs brought about positive change in their lives and in the lives of their loved ones who have BPD. Open and honest conversations about the role of family illustrate how relationships that have been disrupted by BPD can be repaired and restored.
Experts In This Program.
These experiences are further informed by insights from leading experts in the field, including:
Marsha Linehan, PhD – developer of Dialectical Behavior Therapy
John Gunderson, MD – founder of the McLean Hospital Borderline Personality Disorder Center
Perry Hoffman, PhD and Alan Fruzzetti, PhD – co-developers of the NEA-BPD Family Connections
Valerie Porr – BPD advocate
Alec Miller, PsyD – director of the Adolescent Depression and Suicide Program, at Montefiore Medical Center.
Run Time: 42 minutes