---
BPD Books For Families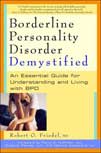 Borderline Personality Disorder Demystified
Robert O. Friedel Dr. Friedel Provides a comprehensive, extensive, and authoritative source of information for those who have, or think they may have, borderline disorder– and for their families. This supportive book is a good place to start learning about BPD and how to find help.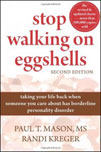 Stop Walking on Eggshells
Randi Kreger and Paul T. Mason This book gives a look at borderline disorder from the perspective of the family members. Stop Walking on Eggshells allows readers to delve into the personal experiences and challenges of families coping with the behaviors of their loved one diagnosed with this stigmatized mental illness.

The Essential Family Guide to Borderline Personality Disorder
Randi Kreger The extreme mood swings, impulsive behaviors, and suicidal tendencies—common among those with BPD—can often leave family members feeling confused and helpless. This book helps family members handle the routinely unpredictable and seemingly unbearable home life with a love one with BPD.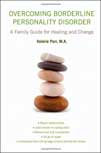 Overcoming Borderline Personality Disorder
Valerie Porr In this book, Porr allows readers to explore her investigation and research into the family experience of loving a member with BPD. The book also teaches DBT skills and mentalization training for families of someone with BPD. These skills help decrease stress, rebuild trust, and reduce negative situations that can lead to erratic behavior.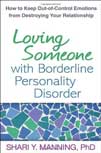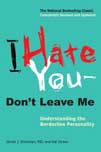 I Hate You-Don't Leave Me
Jerold J. Kreisman After more than two decades as the essential guide to Borderline Personality Disorder (BPD), this new edition now reflects the most up- to-date research that has opened doors to the neurobiological, genetic, and developmental roots of the disorder.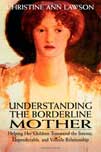 Understanding the Borderline Mother
Christine Ann Lawson This book vividly described how mothers who suffer from borderline personality disorder produce children who may struggle in life even as adults. Some readers may recognize their own mothers in the book, and will find themselves learning tools to help equip them to rebuild stronger, healthier relationships.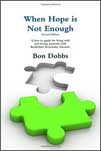 When Hope is Not Enough
Bon Dobbs When Hope is Not Enough (WHINE) helps to provide a step-by-step plan for dealing with people with borderline personality disorder (BPD) or BPD traits. WHINE is an easy-to-read guide to help loved ones rebuild relationships and how to successfully manage daily situations that may arise when dealing with borderline individuals.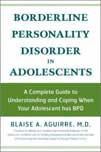 Borderline Personality Disorder in Adolescents
Blaise A. Aguirr This comprehensive guide thoroughly explains what BPD is and what a patient's treatment options are, including Dr.
Marsha Linehan
's revolutionary new treatment called Dialectic Behavior
Therapy
(DBT). Families and their children with BPD will find this book useful as they embark on their journey to happier, more fulfilling lives.