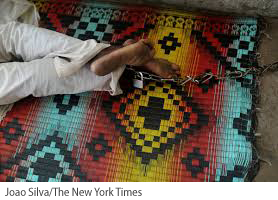 This October is Mental Health Awareness Month, a global initiative to raise consciousness about mental illness and reduce the associated stigma.
October 10 was World Mental Health Day, sponsored by the World Health Organization (WHO). The theme of this year's event was Dignity and Mental Health. This is very much aligned with Article 1 of the WHO Universal Declaration of Human Rights which states that: "All human beings are born equal in dignity and in rights."
Unfortunately, for many citizens of the world that is far from the case, especially when it comes to health, particularly mental health. It is especially not the case in West Africa, a place where many people with mental illness live out desperate lives, often chained to a tree or log in the woods.
This is sadly illustrated in this video, Praying for a Cure, produced by the New York Times. This video is alarming, but ultimately inspiring. It is a depiction of one man's fight against impossible odds to restore lives torn down by untreated mental illness. It is a story about help and hope in places where there is little of either.
The video is a companion piece to a brilliant, albeit disturbing two-part series on mental illness in West Africa – in places you may have heard of but likely know little about. The Ivory Coast, Benin, Togo and Burkina Faso are some of the poorest countries on Earth and their mental health resources are virtually non-existent .
Author Benedict Carey, who also wrote the landmark Times article about Marsha Linehan's mental health history, depicts the heartbreak of the mentally ill in West Africa. Out of a near hopeless situation, Carey somehow manages to extract a slight glimmer of hope, and in the process, restore a sense of dignity to people who have lost so much of it.
During this Mental Health Awareness Month and for many months after, we should remember and honor these people and their families by acknowledging their rights to equality and dignity.
Gregoire Ahongbonon, the hero in this story, provides its' required moral: "As long as there is one man in chains, it is humanity that is chained"