In the most recent BPDvideo Blog we presented the first of two parts of an interview we did with Rosie Cappuccino. Rosie has been writing about borderline personality disorder for years, both on her own blog – Talking About BPD– and for several mental health publications. She has also produced videos about BPD for YouTube and has made guest appearances on several mental health podcasts as well.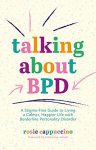 Now Rosie has authored a book – Talking About BPD: A Stigma-Free Guide to a Calmer, Happier Life with Borderline Personality Disorder.
In part 1 of our video interview with Rosie, she described the difficulties she had getting a diagnosis of BPD and the years she spent looking for an appropriate treatment. Then she read about and was able to receive Dialectical Behavior Therapy, the treatment Marsha Linehan developed for people with BPD. You can watch part 1 of the interview here.
In Part 2 of the interview, Rosie explains how DBT taught her skills to better manage her erratic emotions and BPD behaviors. She also offers examples from the Talking About BPD book that describe how DBT skills can improve damaged relationships and the distorted thinking that are part and parcel of Borderline Personality Disorder.
If you find you are dealing with similar BPD related issues, we highly recommend Rosie's Talking About BPD book.